I'm not worthy either... when it comes to buying big brands we are all perceived as sinners!
What never ceases to amaze me is the effort the big brand names put into the 'buying experience'.
They love to convince us that the best place to buy a new watch from is the authorised dealer, especially from one of those new type of flagship stores that have proliferated recently, known as Boutiques. These shops are modeled on the brand's perception of the richest look and feel. They have bright lighting, security enabled sharp-suited staff and range upon range of products laid out in a confusing ocean of glass cases filled with bright objects.
Which is all good, except for one detail: for most, such experience is painfully intimidating.
Boutiques intimidate you from the moment you step in the door. The snooty staff, the setup of the counters, the lights and the decor are all modeled around the medieval religious experience; that of aiming to make you feel as small as possible and the BRAND significantly larger than it really is. Since the sole purpose is to glorify the brand, not to connect with the buyer, I am under the impression that brand boutiques can happily exist even without sinners.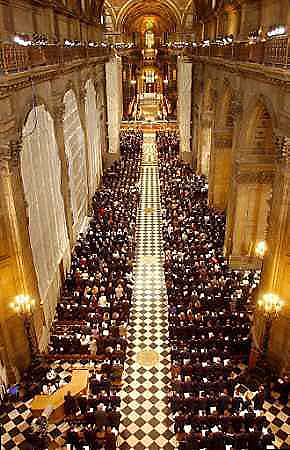 Perhaps the term Boutique would be better swapped for Cathedral? My apologies for the other 2 Abrahamic offshoots; the point here is the size, not the flavor.
I am sorry, but I refuse to be treated like a sinner just because I want to buy a new watch.
Last week I sent young Josh across the road to inquire about the retail price of a newly arrived watch. To his credit, at the age of 16, Josh has already handled more watches than some AD priests. Naively, he went there with a smile and high expectations, to return with a broken spirit. "I'll never go there again" he said.
I didn't have to ask why - probably for the same reason I never entered one of those places of worship myself.
The sad thing is that we all as customers pay for these over indulgent medieval retail experience as it is factored into the price of the watches. The way to redemption and salvation is not to 'shut up and pay retail', nor to be subjected to intimidation for lack of faith in a big brand.
There is no hell and you are not a sinner, go on with your life and enjoy value for money!