The French luxury goods maker Hermes is known for silk scarves and ties, enamel bracelets, leather bags and fragrances. The business started in 1837 as a horse harness work shop. But unlike other similar Paris shops, Thierry Hermes decided to produce the best leather goods he possibly could. A few years later, his client list included Czar of Russia, and European and American nobleman. The quality and design of Hermes' goods was so exceptional that he won two first place prizes at the Expositions Universelles in Paris.
In 1918 Hermes made its first garment: a golfing leather jacket with an exclusive zipper patent for the Prince of Wales. The 1930s were golden years for haute leather bags and Hermes will remain known as having designed the famous Grace Kelly bag. At the same time, Hermes hired famous watchmakers from Universal Geneva as the brands exclusive designer of timepieces.
Luc Perramond, CEO of La Montre Hermès states that Hermes "strategy in the last five years has been to progressively move towards the 'prestigious' segment of the watch industry". Since 2009 Hermes opened 20 boutiques dedicated only to watches.
In 2012, Hermes changed its policy regarding returns and exchanges of products - buyer may only exchange item for another color variant of the original purchase. No other exchanges are permitted and refunds are never offered.
Overlooking Hyde Park, Sydney, the Hermes boutique is located at 135 Elizabeth St.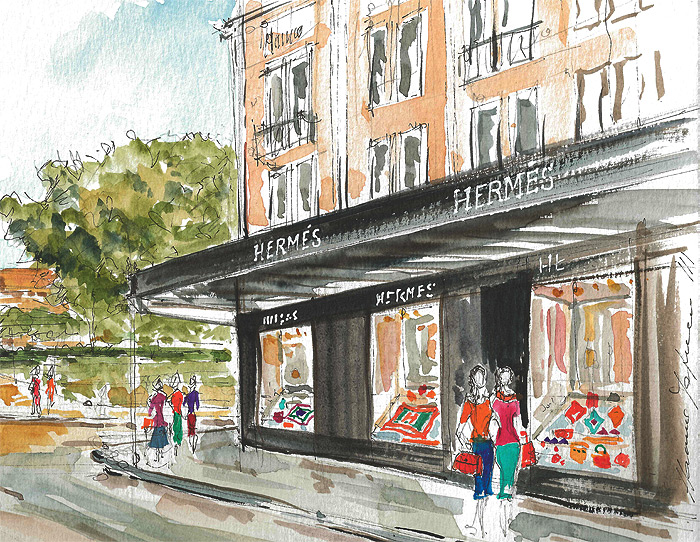 Illustration by TanyaH